Note: Our Products Can Be Customized According To Customers' Needs. In Addition To National Standards,We Can Design And Manufacture According To American Standards, Japanese Standards, German Standards, Russian Standards, British Standards And So On.
GA44H-16C/25/40, GA44H-64, GA44H double-lever safety valve issuitable for power station boilers and pressure vessels whose temperature is ≤450℃ to prevent the pressure from exceeding the maximum allowable value. The medium can be steam or air.
GA44H type s afety valve is applicable to the power-station boiler and pressure con-tainer (The working temperature is 450 or less.) which will avoid the pressure rate beyond the allowed upper limit. The medium can be steam or air.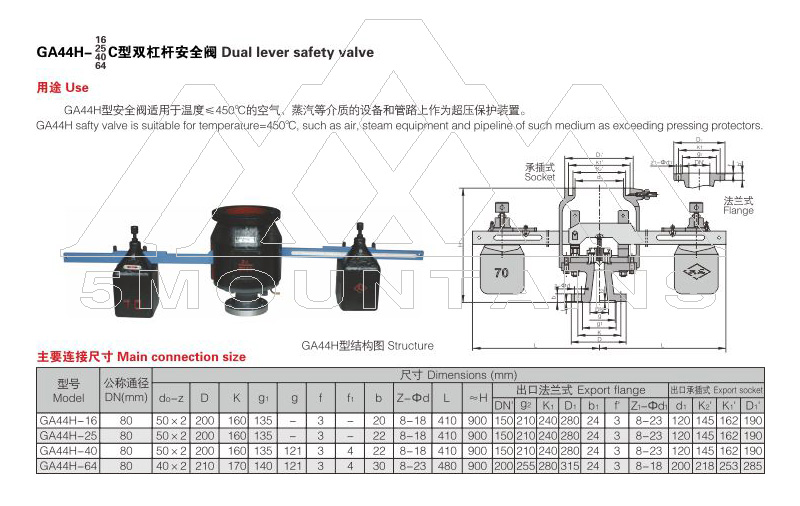 Materials for main parts
The material of the main parts of the GA44H safety valve is the same as that of the GA42H-16C/25/40 safety valve.
For the materials of main parts GA44H lever safety valve are just same as GA42H-16C/25/40 lever safety valve.
Model
Type
Nominal diameter
Nominal diameter DN (mm)
Dimensions
do-z
D
D1
D2
D2
f
f2
b
Z- d
L
H
Socket
Flange type
d1
K2
K3
D3
DN'
D2'
D1'
D'
b'
f'
z1-d1
GA44H-1.6
80
50×2
200
160
135
/
3
/
20
8-18
410
840
120
145
162
190
150
210
240
280
twenty four
3
8-23
GA44H-2.5
80
50×2
200
160
135
/
3
/
twenty two
8-18
410
840
120
145
162
190
150
210
240
280
twenty four
3
8-23
GA44H-4.0
80
50×2
200
160
135
121
3
4
twenty two
8-18
410
840
120
145
162
190
150
210
240
280
twenty four
3
8-23
GA44H-6.4
80
40×2
210
170
140
121
3
4
30
8-23
480
840
200
218
253
285
200
255
280
315
twenty two
3
8-18

Product Keyword Tags>>
Safety valve,Pressure safety valve,Pressure Relief Valve,Safety valve Manufacturer,Pressure safety valve Manufacturer,Pressure Relief Valve Manufacturer